Hi everyone!
A friend and I have been extremely busy over the last two weeks making our submission for Music Game Jam 2018!
We ran out of time to do half the features we wanted to, but in the end we managed to get it to a playable and (hopefully!) fun state, with two complete levels.
The entirety of the code is written in Löve, of course, and as always it's a dream to work with.
Because of the deadline the code ended up being a lot messier than I'd like, and I'll definitely be refactoring a lot of areas there, and we'll keep updating it and adding new features.
It was originally prototyped with graphics from Kenny's Assets (if you don't know him, you should. I've bought all of his bundles!), before being replaced with our custom graphics. The musical instruments are icons from flaticon.com - we were going to do our own, but time time time!
My good friend and coworker trapuh composed all the music and drew all the graphics; the background crowd sounds are us and my girlfriend, as are the in-game voiceover comments

It was a wonderful, hectic and sleep-depriving experience, and I'd definitely do it again!
We'd very much appreciate a bit of feedback from anyone who'd like to play it. The link contains both the pre-packaged Windows executable, and the .love file downloads.
Wÿld Ünÿcÿrns!!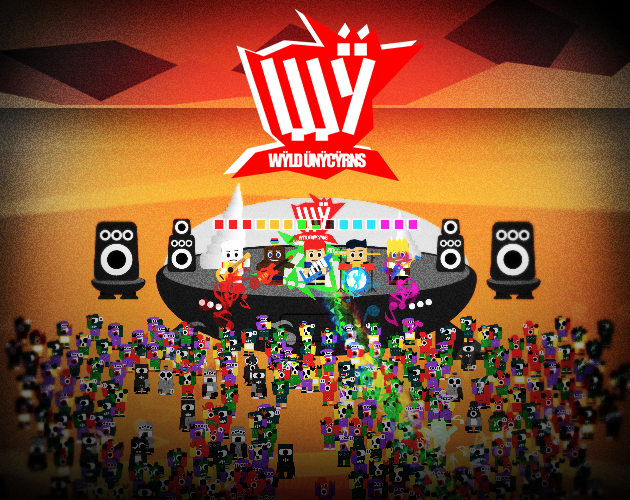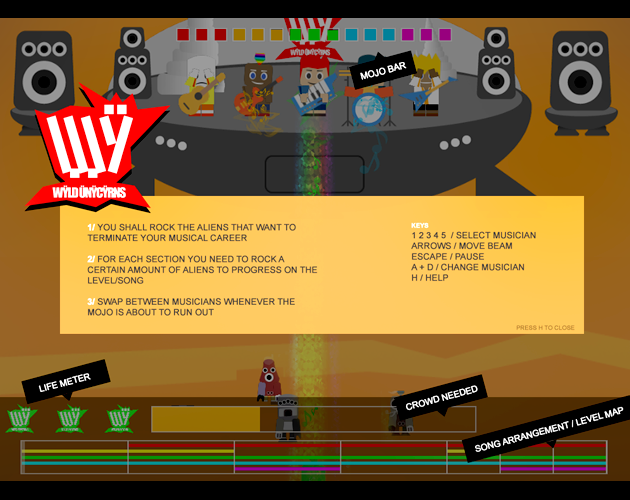 Feel free to poke at the code too, but be warned, it's messy as anything! For now...
Thanks everyone!