love.graphics
The primary responsibility for the love.graphics module is the drawing of lines, shapes, text, Images and other Drawable objects onto the screen. Its secondary responsibilities include loading external files (including Images and Fonts) into memory, creating specialized objects (such as ParticleSystems or Canvases) and managing screen geometry.
LÖVE's coordinate system is rooted in the upper-left corner of the screen, which is at location (0, 0). The x axis is horizontal: larger values are further to the right. The y axis is vertical: larger values are further towards the bottom. It is worth noting that the location (0, 0) aligns with the upper-left corner of the pixel as well, meaning that for some functions you may encounter off-by-one problems in the render output when drawing 1 pixel wide lines. You can try aligning the coordinate system with the center of pixels rather than their upper-left corner. Do this by passing x+0.5 and y+0.5 or using love.graphics.translate().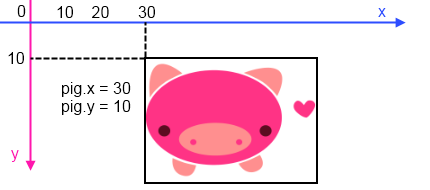 In many cases, you draw images or shapes in terms of their upper-left corner (See the picture above).

A note about angles in LÖVE: Angles are expressed in terms of radians, with values in the range of 0 to 2pi (approximately 6.28); you may be more used to working in terms of degrees. Because of how the coordinate system is set up, with an origin in the upper left corner, angles in LÖVE may seem a bit backwards: 0 points right (along the X axis), ¼pi points diagonally down and to the right, ½pi points directly down (along the Y axis), with increasing values continuing clockwise.

Many of the functions are used to manipulate the graphics coordinate system, which is essentially the way coordinates are mapped to the display. You can change the position, scale, and even change rotation in this way.
Types
Functions
Drawing
Object Creation
Graphics State
Coordinate System
Window
System Information
Enums
See Also
Other Languages