I haven't posted anything on here lately but I've been working hard on multiple projects, and I just finished one!
This is Flappy Bird DELUXE. It's flappy bird, but with
MORE
things you can waste your time with.
It has
local
Multiplayer, difficulties, and some other stuff.
Information
The game is played exactly like flappy bird, but don't tap your screen!
Single Player Controls
You can make your bird jump by pressing any key or mouse button.
Multiplayer Controls
Any other key that isn't used by the other birds
Left Mouse button
Space Key
Up Key
Difficulty
In the options menu there is a difficulty option.
You can choose easy, normal, or hard.
In easy, pipes are farther from each other.
In normal, the game plays like the original.
In hard, pipes are closer to each other and some pipes even move!
There is a separate highscore for each difficulty.
Flappy Coins
You might've noticed a coin with a "F" on it at the bottom of the screen.
Those are your flappy coins.
Flappy coins are the total amount of points you've gotten.
The amount of flappy coins you get change based on your chosen difficulty.
Screenshots
"No pics no clicks" - everyone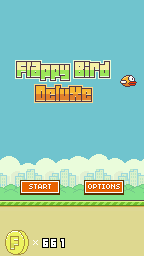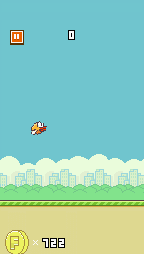 Downloads
For the source use LOVE 0.9.0 or 0.9.1
DOWNLOAD (SOURCE)
DOWNLOAD (WINDOWS)
Have fun and feel free to brag about you highscores!