0.9.0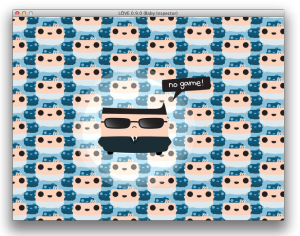 The codename for LÖVE 0.9.0 is Baby Inspector. It is currently released.
Major changes from 0.8.0
All changes from 0.8.0
Additions
Added textinput event for unicode text input.
Removals
Renamed APIs
Fixes
Fixed memory leak in the mp3 decoder.
Fixed sound issues with some versions of OpenAL soft, by enabling direct channels.
Fixed 'random' hangs in audio.
Fixed case (in)sensitivity of sound file extension parsing.
Fixed looping support in tracker music formats.
Fixed skipping/looping issues when playing streaming audio Sources.
Fixed a race condition in Source:play.
Fixed WAVE sound playback.
Other Changes
Updated functions which return LOVE objects to re-use the Lua-side object instead of always recreating it.
Updated the windows console, it now tries to re-use an active one first.
Updated error handling, error handlers now get resolved when the error occurs.
Updated order of sleep/present in love.run (now draws, *then* sleeps).
Updated love.filesystem to try to create the appdata directory if it doesn't exist yet.
Updated the default filesystem identity to omit file extension.
Updated love.filesystem.newFile to optionally open the file.
Updated most love.filesystem functions to return nil, error on internal failure.
Updated Thread:start to accept arguments. The arguments are available in the thread via ... (the vararg expression.)
Updated Box2D to version 2.3.