0.3.0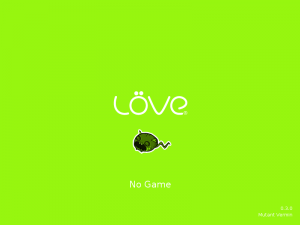 The codename for LÖVE 0.3.0 is Mutant Vermin. It is currently released.
Changes from 0.2.1
Additions
Added ParticleSystem.
Added visual error reporting.
Added love.system for game control needs.
Added input grabbing.
Added functions in love.graphics for display management.
Added love.graphics.point.
Added functions in love.graphics for getting current color, font, etc.
Added love.filesystem.enumerate for getting folder contents.
Added functions for setting the window caption.
Added version checking. An error occurs if the game is incompatible.
Removals
Removed all keyboard shortcuts.
Fixes
Other Changes
Save folders are now created only if required.
On Windows, the new save location is %APPDATA%\LOVE\game