0.7.2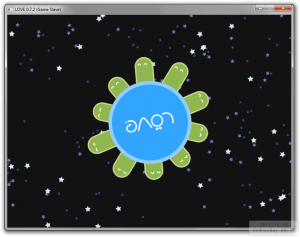 The codename of LÖVE 0.7.2 is "Game Slave". It is currently released.
Changes from 0.7.1
Additions
Bugfixes
Fixed fused games not working.
Fixed ParticleSystem:setSize ignoring the variation argument.
Fixed some file-opening exceptions not being caught.
Fixed files loaded by libmodplug being too loud.
Fixed paths with periods in them not working.
Fixed love.graphics.getBlendMode not detecting subtractive and multiplicative blend modes.
Fixed crash when there was no memory available for newImageData(w, h).
Other
Updated PhysicsFS version to 2.0.2 on Windows
Updated OpenAL Soft version to 1.13 on Windows
Updated libmodplug version to 0.8.8.1 on Windows
Updated FreeType version to 2.4.4 on Windows
Updated libmpg123 version to 1.13.2 on Windows
Windows binary no longer depends on VC2005 runtime.
Windows binary no longer depends on SSE2 support.